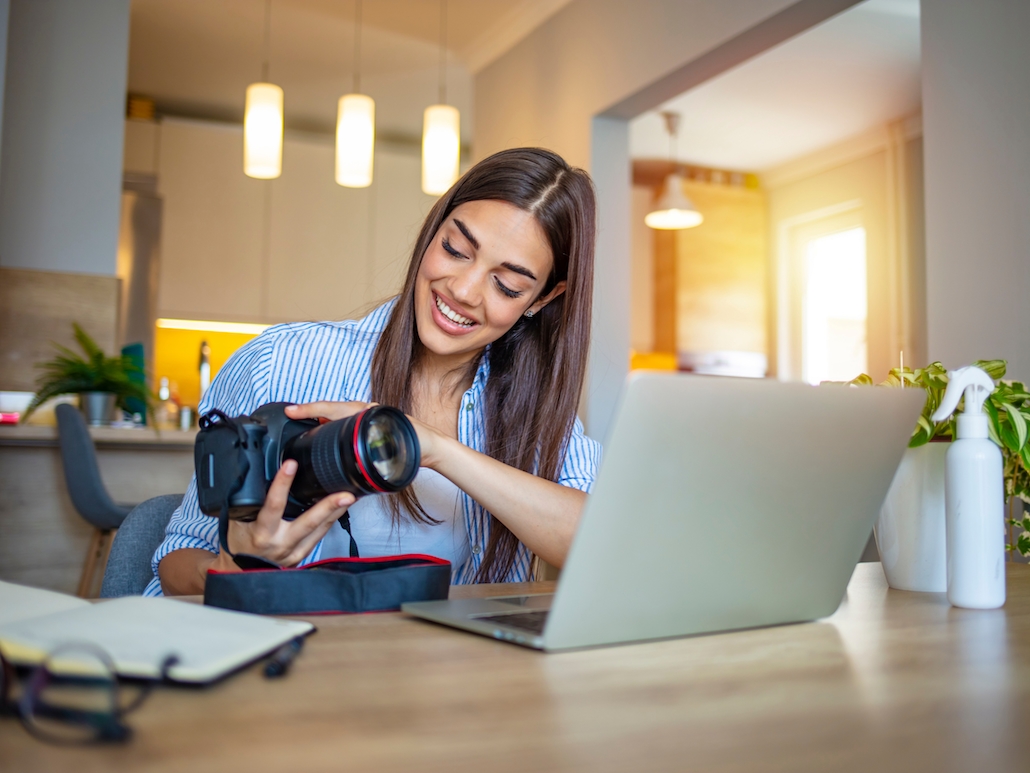 General
Do I really need professional photos?
---
According to the National Association of Realtors, "more than 90% of buyers scroll through hundreds of listings on a mobile device or laptop, clicking only on the ones that grab their attention."
As the saying goes, you never get a second chance to make a first impression. That's why it is extremely important to make sure you have the best pictures of your home when selling. With that in mind, here are things to consider when deciding whether to take the photos on your own or hire a professional to do it for you.
Equipment
As technology evolves, the quality of images taken on smartphones is getting better and better. However, if you do not have a newer phone, a professional camera, or much of a photography background, it is going to take a large amount of time and equipment to get the necessary shots.
It is recommended to use a DSLR camera that has a wide-angle lens. If you are trying to shoot in a tighter space, then a wide-angle lens is crucial. While some of the newest versions of smartphones have a wide-angle setting, it is most likely not as effective as one on a DSLR. A tripod is great to use to ensure that your photos are level and consistent.
Good lighting is critical when photographing both inside and outside of your home. You may want to consider getting a lighting kit that includes a light reflector to help with directing light to certain spaces. If you are unable to obtain a lighting kit you will need photo editing software. While these are great, they do bring additional costs.
A stellar DSLR camera alone will run you at least a few hundred dollars. That combined with the other necessary equipment and accessories will be pretty expensive. Don't want to spend all of that money? You might want to consider Revinre's Premium package or higher. You can still save thousands while getting professional photos taken of your home and none of the stress!
| | |
| --- | --- |
| User cell phone photo | Professional photo |
Photography Expertise
Do you know all of the important aspects of photography or are you just used to using your phone to snap a few shots? As we mentioned above, you will most certainly need to use photo editing software after taking photos of your home. If you don't have software or know how to use it then it will take much time to perfect the photos.
Time of day plays a huge role in photographing your home. You may not know that certain photos look better during the day versus at night. According to realtor.com, twilight photos are great for homes with stunning landscaping and can make a home look inviting from the outside. Twilight is only 20 minutes long, starting once the sun sets. If you are new to photography, you may want to consider a professional to take your photos in order to get the right shots within those 20 minutes.
Interior photos can get tricky when it comes to dealing with glares from windows. A strong glare can result in an extremely bright or dark photo. High dynamic range (HDR) photos are oftentimes difficult to perfect. Fortunately, professional photographers have come up with many ways to get around this issue that the average person most likely will not be able to accomplish on their own.
Shooting from the right spots and avoiding odd angles are also important. All professional real estate photographers know the exact angles to shoot from for each specific room and area of your home. Since it is recommended to include 22-27 photos in your listing, it is important to get them perfect.
Professionals also know how important aerial drone shots are. They are a way to show your entire home from a different view. According to Rocketlister, "properties with aerial drone images are 68% more likely to sell." It's safe to assume that most people don't have a drone lying around at home. With REVINRE, you can select to have drone images taken of your home from our a-la-carte services. Increase the chances of selling your home high while still saving.
A report from Inman tells that about half of the homes in the United States are selling in a week or less. Don't let your photos be the reason that potential buyers move on to a different listing.
Leave it to the professionals and take advantage of REVINRE's professional photography services included in our many package options to ensure your house sells quickly and for top dollar.
Sell your home with REVINRE and save!
If you're selling your home in Arizona, and don't want to pay thousands in listing commissions, you've come to the right place.
Contact us at 602-562-7222 or visit REVINRE.com to get started today.
---
By Rachel Cohen On July 6th, 2021